Project S
Ultimate Performance Can Be Yours!
Designed for maximum performance and stopping power.
Smooth dynamic control and instantaneous response.
Stop on a dime! In the most extreme braking situations we provide you with an ultra responsive system that gives you all the power, safety, smoothness, stability and performance that you need.
Our "Noiseless Braking Design" ensures extra long product life and improved performance because of its increased accuracy and efficiency.
Precision engineered for specific platforms.
Project S N-Series
Project S N-SERIES monobloc calipers were created to fulfill the needs of a daily driver. We have combined a 355.2 alloy and our special casting technique to form the reliable monobloc structure to give you the perfect feeling of control.
N1 Monobloc - 4 Pot Caliper Specification:
| | |
| --- | --- |
| Material | 356 Aluminium Alloy |
| Structure | Monobloc |
| Coating | 4 layer nanotech coating resists high temperatures |
| Compatible rotor | 286mm/302mm/320mm x 24mm |
| Pot dimension | 36/40mm |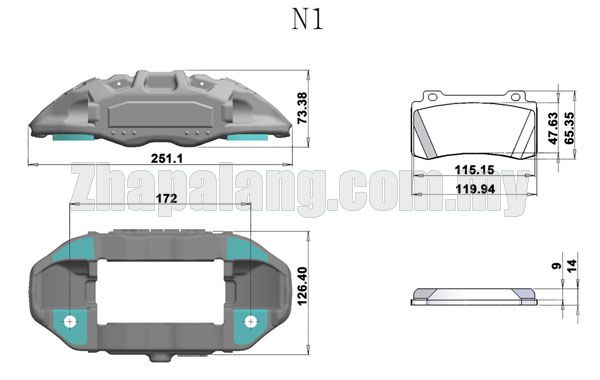 Color available:

5 Years Warranty on Caliper(Free change caliper repair kit if leak), 1 Year on Brake Disc. Replacement parts ready always
Complete s
et come with 2 x Brake Caliper, 2 x Single Piece Slotted Brake Disc, 2 x *Front Steel Braided Hoses, 2 x **Specific Model Caliper Mounting Bracket
*Front Steel Braided Hoses - Teflon® lined tube imported from Italy with double layer stainless steel braided sleeve. Pressure tested to over 3000PSI. Silicone cover offers the maximum protection against abrasion.
**Specific Model Caliper Mounting Bracket - High temperature electro-plated surface treatment, resists acid and alkali and prevent rust. Made of high strength steel, which is durable enough to sustain the frequency vibration of braking.
For more information, kindly visit >>>
Here
<<<