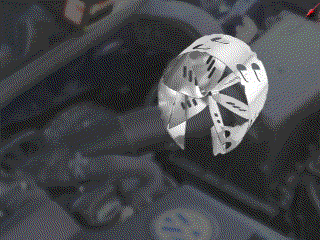 The CycloneFuelSaver is an air-TWISTER, patented worldwide, with 10 years of research & development behind it.

It is an automotive air channeling tool that creates a swirling air motion, allowing the air to move faster and more efficiently by continuously whirling air around corners and bends.

CycloneFuelSaver is made of stainless steel and has no moving parts. Its precisely engineered slotted fins convert normal air intake flow into a powerful spinning vortex of air that mixes the air and fuel together, resulting in better fuel mileage and performance.

The swirling effect helps to atomise the air/fuel mixture in the combustion chamber which, when exposed to the ignition, results in a more complete and efficient burning of the fuel.

The result:
· IMPROVED FUEL ECONOMY
· IMPROVED ACCELERATION
· IMPROVED POWER
· REDUCED POLLUTANTS

CycloneFuelSaver is easy to install, usually 2-5 minutes, and requires no maintenance.

CycloneFuelSaver will keep on saving you money as long as you own your vehicle.

CycloneFuelSaver increases gas mileage anywhere from 7-15%.*

CycloneFuelSaver can easily pay for itself in months, depending on personal driving habits and miles driven per year. Dyno testing shows 4-13 added horsepower as well!

Imagine a mini cyclone on its side moving through the intake of your automobile. The swirling air effect helps atomize the fuel inside the engine, leading to an even fuel/air mixture and a more efficient burn.

*Based on road tests conducted by independent testing labs. Your mileage will vary depending on how you drive, what you drive, and other factors, and you may not do as well.